Runshaw College is proud to announce the launch of Runshaw XR*, which includes a state-of-the-art immersive interactive learning space known as the Immersive Hub and a suite of high-specification virtual reality headsets.
The Immersive Hub** is an interactive learning space that projects 360o video footage onto the walls and floor of the Hub. Powerful software enables staff to edit the scenes and embed touch points, which are activated via a series of motion-detecting lasers to reveal additional information, videos, or quizzes. This innovative and high-tech space engages students on a new level and enables them to learn key employability and technical skills in a safe, simulated training environment. For example, Public Services students will learn to respond to an emergency situation or budding medics and nurses could work within a simulated hospital environment.
The virtual reality headsets offer an alternative but equally immersive learning experience. Bespoke software enables students to work within virtual space, creating stunning visual art or designing engineering solutions. Virtual reality also offers programmes to support positive mental health and develop a range of key employability skills e.g., interview and presentation skills.
Deputy Principal, Martin Rigby stated that "Through the power of virtual reality students are able to explore the depths of the ocean, the expanse of outer space and the wonders of the ancient world. Coupled with our outstanding approach to classroom-based teaching & learning, these new, cutting-edge technologies will further enhance student experience and ensure they develop the knowledge and skills required to excel within the global market".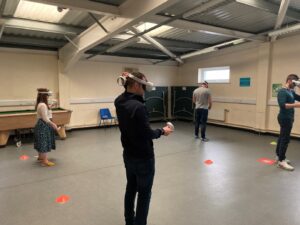 To keep up to date with our outstanding approach to teaching & learning, please follow us on Twitter @TandLRunshaw and @RunshawCollege
*Extended reality (XR) is an umbrella term that covers virtual reality (VR), augmented reality (AR), mixed reality (MR) and other immersive technologies.
** created by Immersive Interactive